by Goldy
Springtime Flower Cookies
- Send a sweet surprise to mom ! These delicious butter cookies are cut and hand-decorated especially for Mom! Each gift includes 12 cookies made from all-natural ingredients which arrive in an elegant Pink & White keepsake slider box. Theres also send a greeting card that you can personalize online!
Mini Springtime Cupcake Bouquet
This gourmet selection of Chocolate and Vanilla Cupcakes with little candy flowers will be the best bouquet anyone has ever eaten! Each gift includes a greeting card with your personal message and arrives packaged in an elegant spring box.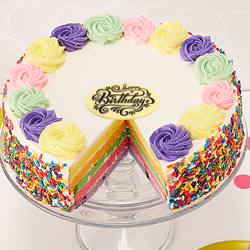 This magical rainbow cake measures 10" in diameter and is the perfect gift for your fantasy birthday. Five layers of fruit flavored, multi-color cakes are topped with vanilla frosting and whimsical rosettes. Each cake arrives packaged in a gift box with a greeting card you can personalize. Perfect for a #Mothers day treat.
---
by Goldy
NEW AT PLANETGOLDILOCKS
Disclosure *These post contains affiliate links and I will be compensated if you make a purchase after clicking on my links*

Extensive collection of housewares, glasware, dinnerware, cleaning supplies, candy, snacks, food, health and beauty, toys, gifts, party supplies and much more. Everything you need for every day, every holiday, and every occasion, and every single item is only $1.
Everything you need for every day, every holiday, and every occasion, and every single item is only $1.
Everything you need for every day, every holiday, and every occasion, and every single item is only $1
Spring will soon be here- Its time to decorate the back yard why not buy in bulk perfect for a pond
dollartree-garden-stakes-outdoor-garden-frogs or Luminessence Glass and Metal Tealight Candleholders
Everything Is Just $1 At DollarTree.com!-- more at

Remember Everything Is Just $1 At DollarTree.com! great products for building your own gift basket
Disclosure *These post contains affiliate links and I will be compensated if you make a purchase after clicking on my links*
---
Party Supplies for your Party
Written by Goldy
---
Written by Goldy
Cookies - For any event or occasions

**
---
Written by Goldy
Co-founded by Sarah Michelle Gellar and Galit Laibow, Foodstirs is modernizing the baking industry, with its simply delicious, Organic, easy to make DIY baking kits and mixes- Day craft for you, friends and loved ones! At Foodstirs, their motto is to bake life sweet! Believing the heart (and stomach!) of every family can be found in the kitchen, they're founded on a mission to help create memorable, long-lasting experiences through baking. And because they are so passionate – scratch that! – totally obsessed with sourcing the very best products, you don't have to feel so guilty about indulging in your favorite treats. Their organic, non-GMO kits and mixes feature six or less simply delicious premium, real ingredients, free of artificial preservatives, dyes and flavors. Plus, they're not only designed by chefs , they're also taste-tested by adults and kids alike (including our own!) to ensure that we never trade quality for taste!

Of course, because nothing in life is sweeter than what they can do for others, they're also committed to giving back! Each month, the Foodstirs family donates time and resources to a charitable organization in their community.

organic dry ingredients sprinkles and cookie cutters to make one dozen simply delicious cupcakes Sprinkled with Love kit is the first kit in the 3-month subscription plan *Savings in promotional offers are compared to buying 3 kits individually at regular price of $19.99 plus $5.99 shipping per kit ($77.94 regular price). *At the end of the initial 3, 6 or 12 month contract period, all Subscription Bundles will automatically renew at the same terms as the original order.

-Bake. Eat. Repeat. Organic
-DIY Baking Kits. 20% off sitewide (coupon: Love20)-
-Brownies, Cookies, Cupcakes
- and More. 20% off sitewide (code: Love20) simply delicious Organic DIY Baking Kits and Mixes.
---
Written by Goldy on February 20,
How to throw the perfect Minnie or Mickey Mouse Birthday Party
BirthdayExpress.com is your #1 resource for themed parties! Find ideas for decorations, recipes, activities & more. Birthday Express has all the supplies Mickey or Minnie Mouse themed birthdays Birthday Express makes it easy for any Parent to organize the best Birthday Parties. Mickey Mouse Party Supplies Why not let them build a party for you See the .Mickey Fun and Friends Party in a Box

Give your child a remarkable birthday party with Mickey Fun and Friends party-in-a-box solutions from BirthdayExpress.com.

Mickey is here to help you throw the best birthday party possible for your child. Make things even easier by choosing a great party pack designed for parties of any size. Start by choosing the number of guests you have attending your Party then begin customizing to get only the things you need to make your party special.

You can save time and money by placing your order all at once with Birthday Express Choose what you need and your items will be on your doorstep faster than you'd expect.

Mickey 1st Birthday Party in a Box. If your child is turning 1 - lets make it memorable with Mickey Mouse 1st birthday party packs

Baby Mickey can be found on plates, napkins and other tableware. Make the table complete with centerpieces and other Mickey-themed decorations. When it's time for the cake, there are cute little cake plates and high chair decorations to use.

Whether your child is turning 1 or 10 Decorate with plates, napkins and cups featuring Mickey Mouse and bright colors, you'll have all you need to serve a great meal and some tasty treats for dessert. Additional accessories feature all of Mickey's friends such as Donald Duck, Goofy, Pluto and more. Everything you need . This is an officially licensed Disney product.Minnie Mouse Party Supplies

Minnie Mouse Party Supplies are also available To start your Party get Disney Minnie's 1st Birthday Invitations
In Stock & Ready To Ship! Only $3.99 Plus

Disney Mickey or Minnie 1st Birthday High Chair Decorating Kit this is also available
In Stock & Ready To Ship! $7.99

This decorating Kit. Includes (1) plastic floor mat (46"H x 30"W) and a paper tray decoration (43"W). Does not include high chair or adhesive. This is an officially licensed Disney product.

The Disney Minnie Mouse Personalized Birthday Banner is perfect for a child of any age

High Definition (HD) personalized birthday banner !has latest in high definition technology to bring your personalized print to life. Just select your font and color choices, and add your customized message to make your banner truly unique! The preview image allows you to see how your banner will print, to make sure it is perfect for your party! Banner is available in three sizes; Standard (18" x 61"), Medium (24"x 80") and Large (30" x 100").

Outstanding quality at an affordable price. Banners are made of heavy duty vinyl so they are durable enough to withstand serious kids-play and all types of weather. Banners also feature metal grommets for easy hanging indoors and out.

In addition to birthdays, there's a huge selection of customizable banners ideal for school functions, sporting events, company gatherings and more!

There's more supplies and ideas here Birthday Express
I wish I had all these available Online Party options when my children were younger
Having a Party and you have limited time to shop for decorations and accessories ;More party decorations sales coupons here here https://www.planetgoldilocks.com/party_supplies
---
Where Everything is Just Right!
Written by Goldy
Planet Goldilocks has been online since 2001 with shopping coupons and promos saving customers around the world up to 95%. planetgoldilocks.com partners with the best merchants online, and posts their coupons and promos to save money on the things you really want. Visit ourr new Dial a Deal page, where you just pick up the phone for special offers, often found nowhere else and only available by calling their exclusive toll free numbers. You can keep up to date through all our social media outlets including Facebook, Twitter, Pinterest and now with our blogs.
Shop for everyone and everything...
Ancestry Angels Art Astrology Auctions Auto Baby Mart Bags Luggage Books Boots Black Friday E Books Careers_Jobs Christmas Deals Christmas Shopping Clothing Clothing Children Clothing Mens Clothing Womens Clothing Plus Size Maternity Plus Size Lingerie Plus size Lingerie Fashions Plus size_lingerie_planet Plus Size Swimwear Comics Cooking Computers Cosmetics Dating Diabetes Supplies Dial a Deal Disney Products Dolls Ecards e_Cigarettes Education Electronics Eyeglasses Finance Fitness Flowers Food Free Phones Furniture Games Gifts Gift Certificates Golf Greeting Cards Halloween Halloween Costumes Health Holiday Shopping Home and Garden Home Security Home Improvement Home Loans Insurance Jewelry Jewelry2 Watches Kmart Lingerie lingerie Planet Lingerie Panties Magazines Mothers Day Movies Music Office Party Supplies Payday Loans Pets Photography Planet Green Posters Power Tools Sears Seniors Shopping Shoes Shoes2 Sports Swimwear Swimwear2 Plus Size Swimwear Plus size swimwear planet Kids Designer Swimwear Tickets Toys Travel Valentines Day Video Games Vitamins Watches Walmart Wedding Supplies
Thank you or visiting planetgoldilocks.com

Where everything is just right!