Online Books We will find you the best Coupons and Sales for books and collectables online.
E-Books Sale shopping coupons Value Bundles
eBooks.com - Download a book today
A People Magazine Pick * US Weekly Must Pick * Named Best Book of the Summer by Glamour * Good Housekeeping * USA TODAY * Cosmopolitan * PopSugar * Working Mother * Bustle * Goodreads From the acclaimed author of The Seven Husbands of Evelyn Hugo and After I Do comes a breathtaking new novel about a young woman whose fate hinges on the choice she makes after bumping into an old flame; in alternating chapters, we see two possible scenarios unfoldwith stunningly different results. At the age of twenty-nine, Hannah Martin still has no idea what she wants to do with her life. She has lived in six different cities and held countless meaningless jobs since graduating college. On the heels of leaving yet another city, Hannah moves back to her hometown of Los Angeles and takes up residence in her best friend Gabby's guestroom. Shortly after getting back to town, Hannah goes out to a bar one night with Gabby and meets up with her high school boyfriend, Ethan. Just after midnight, Gabby asks Hannah if she's ready to go. A moment later, Ethan offers to give her a ride later if she wants to stay. Hannah hesitates. What happens if she leaves with Gabby? What happens if she leaves with Ethan? In concurrent storylines, Hannah lives out the effects of each decision. Quickly, these parallel universes develop into radically different stories with large-scale consequences for Hannah, as well as the people around her. As the two alternate realities run their course, Maybe in Another Life raises questions about fate and true love: Is anything meant to be? How much in our life is determined by chance? And perhaps, most compellingly: Is there such a thing as a soul mate? Hannah believes there is. And, in both worlds, she believes she's found him.
Maybe in Another Life
Two Metaphysical Naturalisms
Victorino Tejera combines an American naturalist approach to Aristotle's modes of knowing with new applications of Justus Buchler's systematic metaphysics. Bridging the gap between classical and modern, Tejera reveals a cohesive revitalization of metaphysical naturalism for contemporary scholars.
Electronic Charges of Bonds in Organic Compounds
Electronic Charges of Bonds in Organic Compounds presents simple and diverse methods for calculating the electronic charges of bonds from the results of physical methods of investigation. This book is composed of 10 chapters that consider the concept of electronic charges of bonds, which opened up possibilities for the study of the chemical and physical properties of organic compounds. Chapter I deals with the history of the structural theory of organic compounds, demonstrating the development of the idea of electronic bond charges and showing the close analogy between the methods of studying them. Chapters II to VI discuss the results of a study of the relationship of the electronic charges of bonds to the physical and physicochemical characteristics of molecules and their structural elements. Chapters VII to X highlight the relationship between the electronic charges of bonds and chemical properties. This book will be of value to organic chemists.
Psychopathic Disorders and Their Assessment
Psychopathic Disorders and their Assessment considers the diverse views and significant developments in understanding psychopathic disorders. This book is composed of 12 chapters, and begins with a description of the primary and negative features of the condition. The subsequent chapters are concerned with the methods of disposal of a psychopath under English law, the safeguards available both to the individual and to society within and without the Mental Health Act, and the extent to which this disposal mechanism was used. These topics are followed by discussions on the causation of psychopathic disorder; the electroencephalographic and psychological techniques for the disorder evaluation; and various methods of patient care. The last chapters consider the law and practice relating to psychopathic disorder and British facilities for the treatment of psychopaths. This book is of value to psychologists and psychiatrists.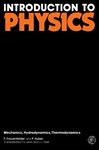 Introduction to Physics
Introduction of Physics: Mechanics , Hydrodynamics, Thermodynamics covers the principles of matter and its motion through space and time, as well as the related concepts of energy and force. This book is composed of eleven chapters, and begins with an introduction to the basic principles of mechanics, hydrodynamics, and thermodynamics. The subsequent chapters deal with the statics of rigid bodies and the dynamics of particles and rigid bodies. These topics are followed by discussions on elasticity, mechanics of fluids, the basic concept of thermodynamic, kinetic theory, and crystal structure of the solid .The final chapters consider the laws of the thermodynamic and their applications. This book will prove useful to physicists, scientists, thermodynamics engineers.
---
-Kobo
-Free 30 day audiobook trial subscription Kobo Canada
HOMESPUN® COMFORT AFGHANS

Share the coziness and beauty of Lion Brand® Homespun® yarn using any of the seven cuddly throws in this attractive collection of afghans, which will make great gifts for those you love! From ripples and braids to hexagons and strips, each works up quickly using clear instructions.
Follow Goldy's board Books and magazines on Pinterest.-